Psycho 78, Oct 16, 2008

If it really left andy "…a good deal of time to do other things" one would expect he would, in fact, do other things. However this is clearly not the case as we can see he spends all day sitting on his arse at his computer, finding any excuse he can to demonstrate that everyone's a nazi…except him.
Bah humbug: in early August I received an email from 'Psycho 78' asking me if I was responsible for a posting on the Melbourne Punx Forum implying that I thought she was a slut who deserved to be raped. The email was prompted by the following message in a thread titled 'Surprise Sex Attack VIC shows Sep 08' (shane, Aug 18, 2008):
Andy SlackBastard, Aug 22, 2008

Listen you bitches. Women have raped men before, men rape men and women rape women. So why do you hetrosexual [sic] women take offence to [sic] the band`s name? All kinds [sic] of people get raped, not just women. And all kinds [sic] of people commit rape, not just men. Why is the name in bad taste? No one else finds it offensive, just hetro sexual [sic] sluts like you fruit salad and psycho 78. I reckon if a woman gets raped then she deservses [sic] it anyway. The way some sluts dress today with their mini skirts tells me that they`re just asking for it. If you dress like a slut then you ARE a slut and you want it. You only cry rape after sex because you`re embaressed [sic] about being a horny slut so you tell everyone that he raped you. I reckon that this band sound cool and [I] might go along and see them. Hopefully there`ll be some young slut at the gig for me to pick up.
Pretty daft and not really in keeping with my written comments generally, but whoever posted it — and judging by its contents, it was written by a young boy — obviously, if rather ineptly, wanted to create some kind of bad impression. And I would have ignored it — as I have other rather unsubtle online impersonations in the past — if I'd not received the above email. So: just to clear the air, I joined the Melbourne Punx Forum.
"This forum was created at the start of the century to [accommodate] thoughts and discussion between participants [in] the Melbourne punk community"; that is, about 20 years after I started listening to punk music. Most of the discussion concerns upcoming shows and local gossip, with occasional forays into other subject matter. The level and range of opinion is largely indistinguishable from what you might find on any other disco forum, perhaps the only exception being the pronounced conservatism of most commentators.
Aside from an introductory message intended to establish some facts about my participation on the Forum, I made one other post: Anti-fascist Activist Killed in Moscow (October 14, 2008). This simply re-published a recent article by The Other Russia concerning the murder of a SHARP skinhead in Moscow. The stabbing to death of Fedor Filatov (Filatov «Fedjay» Feodor Vasilevich) on October 10 outside his apartment appears to have gone completely unremarked in the English-language press, and has met with mostly indifference on the part of the handful of users of the Melbourne Punx Forum who have commented on this story.

Nowave: "No offence but honestly who gives a shit about some skinhead in Russia."
The following comment is my final reply to Fruitsalad:
I'm having trouble following your wordsalad. To repeat: I posted an article on the murder of a Russian skinhead and anti-fascist. Your initial response was to assert that this incident needed to be placed in perspective. That perspective is provided, you wrote, by way of the following:
it's not good when there is any sort of violence;
racists would be violent even if they weren't ideologically motivated;
someone deleted you as one of their friends on myspace because they said you 'practiced homosexuality';
you're not cying about this sad reversal of fortune, nor crossing your arms or stamping your feet in pointless protest;
everyone is entitled to their opinion;
there is something wrong when people stop other people having a contrary opinion;
it's sad to read about the murder but;
there are more pressing issues in OUR country and;
focusing on this sort of stuff is like Nazis who focus on Europe when they've never visited it.
You then provide links to articles on how: a new screening system at Melbourne airport will see through passengers' clothes; a number of radio shows on ABC are being axed; "Aboriginal children will have to wait for up to three years for the NSW Government to hire five new employees to fight sexual abuse in the state's west"; and "Christian schools in NSW are teaching creationism or "intelligent design" with little or no monitoring of whether it is being improperly included in science classes in high schools."
Finally, you opine that "Sex abuse is more important [than] a Russian to our country" and that if I were "serious" I'd "focus on us".
In subsequent postings, you proceed to outline your thoughts on the meaning and causes of (interpersonal) violence, racism, homophobia, violence, racism and homophobia in contemporary Russia, fascism, the nature of contemporary Australian society — and what you believe to be the most pressing issues facing it — and more besides.
There's a number of obvious rejoinders to be made, I've made them before, I'll make them again in case you missed them.
First, there's little in what you've written that addresses the subject of the article. What you have remarked upon is demonstrably wrong. Thus you ask: "Why aren't you [trumpeting] gay and lesbian rights in Russia, when homophobic violence is more [prevalent] there [than neo-Nazi violence is]?" (You also state "If Russians are so interesting to you, move to Russia", which I think is totally awesome.) You provide no evidence, and presumably know little, if anything, concerning comparative rates of 'homophobic' vs. 'neo-Nazi' violence in Russia. In any case, the fact that other acts of violence occur, and that these may also be condemned, does not, in and of itself, render the reportage of Fedor's murder an invalid act — which is what you're none-too-subtly implying.
Further, I'm not 'trumpeting' anything: I've simply re-posted an article by 'The Other Russia' on the recent murder of a skinhead in Moscow. In reaction, you — for reasons best known to yourself but I assume having less to do with the act itself and more to do with your own misplaced loyalties — have jumped on your high horse and proceeded to gallop across the tundra like a demented Cossack being chased by one of Makhno's partisans.
In addition, and as I've already indicated, in reality, I have referred to 'homophobic' violence in Russia, as well as the fact that neo-Nazis practice and advocate extreme forms of violence against homosexuals, and that many anti-fascists oppose this form of violence just as they do other forms of neo-Nazi assault and propaganda. Beyond this, your statement presumes that merely remarking upon, once, the murder of a skinhead, can and should be interpreted as part of a campaign on my behalf to obscure the truth concerning levels of homophobic violence in Russia. This is a highly tendentious argument: if you don't understand why already, there's little point in my explaining how.
Secondly, what you have written consist of banalities, trivialities and a large school of Etrumeus teres. This remains the case, however much you pout, cross your arms, or stamp your little feet.
Regarding your subsequent comments:
1) "You're not listening to me – you're measuring everything up to your ideology of coherence."
This, ironically enough, is a good example of an incoherent statement — one which I'll cheerfully let go through to the keeper. And I don't know who "the skinheads" you refer to are, but I suppose I should admire your telepathic abilities: I suggest that in future you use them for Good instead of Evil.
"With militant antifascists it's always about [winning] rather then listening and coexisting. Not so different from fascists, eh?"
To someone with an analysis as shallow as your own, no; the difference between fascism and groups, projects and individuals opposed to it escapes you — and likely always will. Here's how one network describes its approach:
Fascism is a violent ideology. Throughout history, fascists have used violence against those who oppose them. Antifa is a continuation of the antifascist tradition of confronting fascism physically when it is necessary. Physical confrontation is only one of our tactics though, we do not aim to fetishise it as one tactic above all others, nor will we allow a hierarchy to develop based on the kudos of street-fighting. If an individual member feels unable to engage on this level they are no less worthy as an anti-fascist than any other member of the group, however those with a moral problem regarding this issue should be advised that this is not the group for them.
And as Durruti put it: "Fascism is not to be debated. It is to be destroyed."
2) OK, so, "People who commit racist violence nearly always have histories of other types of violence"; further, this suggests one "needs to consider the role of violence in attacks before the ideological context".
A few points.
You're collapsing the distinction between the violent activities of organised fascist and neo-Nazi groups and movements, on the one hand, and racialised violence, on the other. Further, the specific nature of fascist movements in post-Soviet Russia. On this subject in particular — fascist movements in post-Soviet Russia — a lot has been written — none of which, seemingly, you're familiar with. A recent, short documentary on the subject of neo-Nazi violence in contemporary Russia is available here.
The point being: to assert that the murder of Feodor might more simply be explained by reference to the psychopathology of racist individuals is mistaken. Nevertheless, I am in fact familiar with this methodology. A research paper by the FBI (John R Schafer and Joe Navarro, 'The Seven-Stage Hate Model: The Psychopathology of Hate Groups', FBI Law Enforcement Bulletin, March 2003, Volume 72, Number 3) on the subject of bonehead violence:
During a 7-year FBI investigation of skinhead groups in Southern California between 1992 and 1999, specific patterns emerged. Skinhead groups typically consist of uneducated, young, white males between the ages of 13 and 24 who have no long-term prospects for success. Although many come from single-parent, dysfunctional families, some exceptions exist. For example, members of the Western Hammerskins in Hemet, California, had high school educations and came from two-parent, middle-class families. Further examination revealed that both parents made long, daily commutes to work in Los Angeles and left their teenage children unsupervised. The lack of parental supervision and guidance spawned personal insecurities similar to those found in skinheads who come from dysfunctional, single-parent environments.

Fortunately, most skinhead groups are not well organized and lack the leadership structure found in the majority of street gangs engaged in "for-profit" criminal activities. However, the Western Hammerskins group has a stronger leadership hierarchy than most skinhead groups, and it boasts a very active recruitment program. Potential members receive a recruitment package, which includes a swastika armband, a T-shirt with white supremacist slogans, white supremacist literature and band stickers, and other supremacist materials. Recruiters also pass out business cards embossed with the Western Hammerskins' logo and the recruiter's name and telephone number. The group's higher educational level may explain the sophistication of its recruitment techniques.

Skinhead groups subdivide into two categories: criminally motivated and hate motivated. Criminally motivated skinhead groups spend most of their time engaged in for-profit criminal activities, such as drug sales and burglaries. Incidental to their criminal activity, they commit hate crimes. The San Fernando Valley Peckerwoods (SVP) in California was a criminally motivated skinhead group. SVP members primarily sold meth-amphetamines and committed residential burglaries. Periodically, SVP members attacked minorities with weapons and, on one occasion, placed packages resembling bombs near an apartment complex where African-Americans lived. Members intended for the fake bombs to frighten current residents to relocate and to discourage other African-American families from moving into the complex…
Another recent paper on the subject of yoof hate crime states:
Data on convicted hate crime perpetrators have revealed that many of the more serious forms of hate violence are committed by individuals with prior criminal histories, those who are economically marginalized, and those who have a propensity for substance abuse. In addition, violent perpetrators evidenced characteristics that predict antisocial and recidivistic behavior. However, little is known about the majority of hate crime perpetrators in terms of psychological or demographic status, including factors such as economic level, religion, and national origin. Still less is known about these characteristics in juvenile hate crime offenders.

Within the psychiatric community, there is disagreement about whether extreme racism can be considered symptomatic of psychopathology. Some have proposed that extreme racism is a serious mental illness and have considered whether DSM should include a diagnosis of delusional disorder—racist type. Others have cautioned against turning a group's extreme views into psychopathology for fear that the view that a hate crime perpetrator may be "not guilty by reason of insanity" will undermine the idea of culpability. Regardless of the diagnostic implications, the various forms of prejudice need to be considered not only as a social problem, but as a mental health issue worthy of significant attention. ~ Annie Steinberg, Jane Brooks and Tariq Remtulla, 'Youth Hate Crimes: Identification, Prevention, and Intervention', The American Journal of Psychiatry
You admonish me to: "Understand how understanding the dynamics of violence has everything to do with Fedor's murder. This is very simple deductive logic." And as HL Mencken once wrote: "Complex problems have simple, easy to understand, wrong answers". In other words, while 'understanding the dynamics of violence' is no doubt useful when it comes to examining violent incidents — murder, rape and other forms of violent assault, whenever and wherever these occur — it does nothing to explain the re-emergence of fascist and neo-Nazi movements in Russia, nor the fact that oppositional movements are being targeted for extermination.
3) "So you agree [that to place violence in context is useful], yet you disagree in the above point? You're contradicting yourself."
The contradiction is your own. There is no contradiction between, on the one hand, acknowledging that 'violence', in order to be understood, should — as is the case with any other social phenomenon — be placed in context; and, on the other, arguing that the context for Fedor's murder is not a simple matter of considering the supposed fact that "people who commit racist violence nearly always have histories of other types of violence". If Fedor's murder, and the previous murders of anti-fascists in Russia — Timur Kacharava (13.11.2005); Alexander Ryukhin (16.4.2006); Ovanes Ajriumian (20.10.2007); Ivan Yelin (15.01.2007); Ilya Borodaenko (02.07.2007); among others — can be explained (away) by reference to this fact, then the re-emergence of fascist and neo-Nazi movements in Russia could be explained by the sudden emergence of a cohort of yoof with violent criminal histories.
A former Moscow resident writes:
In the face of this rash of violence, the Russian-language media has switched gears from its intermittent blasé coverage of racially-motivated murders as troublesome individual acts to searching for some explanation for the specter of ethnic violence that threatens dark-skinned migrants and visitors to the capital…

[E]thnic violence, like many facets of Russian society and politics, should be put in its pan-European and global contexts. Specifically, it is useful to think about violence against migrant workers from former outposts of imperial Russia and the Soviet Union as part of a larger post-imperial hangover, comparable, though not the identical, to the development of xenophobia and racist attacks against migrants in London or Paris. That is, the story of ethnic violence in Moscow should not be disentangled from the story of imperial expansion, Russian chauvinism (including in the Soviet period) and bloody wars in the Caucasus. This framing also highlights the role of the State in propagating racism, through a variety of mechanisms from police harassment, failure to prosecute hate crimes, fostering nationalist rhetoric, xenophobic legislation and providing the conditions for labor exploitation. Representatives of Central Asian and Caucasian diasporic populations have been insistent on making this connection to the authorities. It's always valuable to listen to the people.

The other part of the pan-European story is the commonality of the rise of white supremacist organizations that convert economic distress, a vague sense of nationalist chauvinism and political disenfranchisement into violent ethnic hatred. The failure of a countervailing multicultural vision in the post-Soviet period has allowed such extremist racism to help raise a young generation that is proportionally more xenophobic and racist than their elders. (And yes, their message is, in fact, quite often piped in via the internet.) A few months ago, an older Russian lamented to me and some others, "We act surprised. Where did these violent racist youth come from? But we must have raised them, somehow."

That "somehow" is something that is still being worked out. It is a question that journalists and intellectuals need to seriously address, casting aside sensational coverage. This task will take thorough data collection, theorizing and reflection…

In the long-term, perhaps the most encouraging sign is the self-organization of national minorities around this issue. As the New York-based Coalition against Anti-Asian Violence (CAAAV) pointed out long ago, the best solution to ethnic violence is community empowerment. Of course, what prospects there are for "community empowerment" in the Russian context is entirely another question.

And here we might return to the one insight of the "un-explanation." Ethnic violence is but a part of a large tangle of problems faced by residents of Russia. But to imagine that those other problems will have to be solved first misses the point that ethnic violence is a problem of governance and those struggling against it might well form a bulwark for democracy.

In the meantime, Moscow's migrants face daily violence.
4) "Did I ever say that a murder should be laughed off? I wasn't trivializing a murder I was making [a] point with hyperbole. Racism and homophobia are exactly the same. The implication of my remark was for you to consider violence as violence, not an ideological war."
No, you did not literally write that Fedor's murder should be laughed off. Rather, you opined that it was irrelevant to punks in Australia, and as I've already remarked, compared it to an unpleasant myspace adventure you recently had. I call that engaging in trivialisation. Further, racism and homophobia are not "exactly the same", nor do they manifest in "exactly the same" manner, or have "exactly the same" meaning or significance. The same considerations apply to your amorphous notion of "violence" and its relationship to ideology: Fedor was murdered because he was an active anti-fascist skinhead.
5) "Picking my spelling mistakes isn't really making an argument. My point is, and I repeat it: I fear you're not really concerned with racism or homophobia. You're more interested in a battle of ideologies and belonging to a global movement, more [than] combating interpersonal violence. That's not that different from neo-Nazi groups you despise."
No, you're right: your spelling mistakes, and my picking them apart, is not an argument. (Congratulations on being so observant.) Your fears, on the other hand, are as misplaced as your analysis. Finally, consider for a moment that my posting a news article regarding the murder of a SHARP in Moscow is in reality quite a different form of activity to those which neo-Nazis in Moscow regularly engage in. For example: murdering ethnic minorities and anti-fascists.
6) "I don't understand why you put sic next to "arguing for a violent hierarchy", because that's spelt correctly. "A hierarchy is an arrangement of objects, people, elements, values, grades, orders, classes, etc." Instead of saying my argument is silly, tell me why it's silly. You haven't really considered what I meant by a hierarchy of violence and/or violent hierarchy. I suspect you know exactly what I mean, especially when you say "I agree with you that placing violence in context is useful, whether or not that includes a racial dimension." But you refuse to commit to that line of reasoning because it undermines the value you put on neo-Nazi violence."
sic: The word sic may be used either to show that an uncommon or archaic usage is reported faithfully or to highlight an error, sometimes for the purpose of ridicule or irony. It is also sometimes used for comic effect. Your argument is "silly" because you provide no evidence with which to support it. That is, that I argue for a 'violent hierarchy'. The 'value' that I place on the murder of a SHARP in Moscow is reflected in the fact that I sought to draw the attention of readers of the Melbourne Punx Forum to it. I refuse to commit to daft arguments because they're daft, and even if you erroneously assume some position on my part.
7) "I responded to it, you've just missed my entire point. Understanding interpersonal violence has everything to do with it when you're talking about a murder, or trying to inform people about violence in a global context."
See 3) above.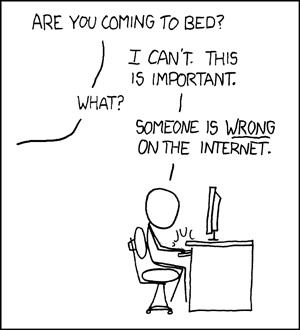 8) "So you agree; the motivation is to resolve a political conflict. Why do you have to appear to disagree when you really agree with me?"
"Why do you have to appear to disagree when you really agree with me?" Er… You wrote: "Half of the issue with helping people stop violence (if that's what you want to do) is getting them to understand that it's useless for conflict resolution." I responded: "I disagree. Well, kinda. That is, I believe that some violence — for example, that practice[d] by Russian neo-Nazis — has very little to do with 'conflict resolution'. Rather, its aims are — if you like — political. Further, one might argue that one of the distinguishing features of fascist violence is that it is geared towards 'resolving' conflict by way of extinguishing its purported source." If I disagree then, it's because I think mass murder is not usually considered a legitimate form of 'conflict resolution', nor is fascist violence usually viewed as being aimed at establishing an agreement between two or more parties to a conflict. With regards fascist violence in Russia, educating yoof that 'racism is bad, mmmkay?', is one thing; devising some way of lessening fascist violence is another. This includes, obviously, not only assaults upon punks and skinheads, punk clubs, and groups like Food Not Bombs, but the many more attacks upon ethnic minorities. Most recently:
FOREIGNERS TARGETED IN MURDER SPREE IN MOSCOW. On October 9, a Tajik national was killed in western Moscow. His body with 40 knife wounds was found on a school compound, Viktoriya Tsyplenkova, representative of the Investigations Committee of the Moscow Prosecutor-General's Office, told Interfax. The news agency also learned that on October 11, an unemployed man living in Moscow stabbed an Uzbek woman, 29. She died of wounds the same day. A suspect has been detained. On October 12, an Armenian man was killed with a knife in northeastern Moscow. Criminal proceedings have been instituted, the report said. Also on October 12, two Tajik nationals, aged 25 and 28, were stabbed in central Moscow, Interfax reported, quoting a law-enforcement source. Both men were taken to a hospital, criminal proceedings have been instituted, and an investigation is in progress.

On October 13, ten young men wearing ski masks beat and repeatedly stabbed an Azeri man on a Moscow suburban train, according the Sova Information-Analytical Center. He was taken to the hospital in serious condition with wounds to the kidney and liver. Police are investigating. On the same day in Moscow, a racist mob attacked four men who appeared to be from the Caucasus, according to Sova. Up to 30 young people assaulted their victims while screaming the far-right slogan "Russia for Russians!" Witnesses claim that police were nearby but did nothing. ~ Bigotry Monitor: Volume 8, Number 41, October 17, 2008
9) "Are you equating me with a giggling racist schoolgirl? HAHAHAHA. Oh Jesus, you're about 10 years too late. I probably draw my understanding of fascism from a genealogy starting with Giovanni Gentile. I'm not a racist or fascist, if that's what you're implying. If there is a political persuasion I could be aligned with, it'd likely be libertarianism or Nietzschean poststructuralism."
I wish you a speedy recovery.
Your resemblance to a giggling schoolgirl is not a function of your chronological age but your remarks. For example:
"Let's put this in perspective: it's not good when there is any sort of violence, but you'd find racists would be violent even if they weren't ideologically motivated. Yesterday someone deleted me off their myspace because they said I practice homosexuality and couldn't be my friend. Am I crying about it, that there is so much homophobia and cross[ing] my arms and stomp[ing] my feet? No it's funny, stop crying!"
"Are you saying homophobia is less important [than] racism? That homophobia is of little [relevance]?"
"What do violent people like most? Opposition!!! You're giving them an audience!"
"What about child pornography? Forced prostitution rings? Illegal immigrants?"
"If Russians are so interesting to you, move to Russia."
"With militant antifascists it's always about [winning] rather [than] listening and coexisting. Not so different from fascists, eh?"
"You're more interested in a battle of ideologies and belonging to a global movement, more [than] combating interpersonal violence. That's not that different from [the] neo-Nazi groups you despise."
I also have in mind the remarks made by a couple of Kiwi schoolgirls on my blog: ashlee♥ and ♥Kaela. Their School of Thought is Called 'I Know You Are, But What Am I?'
As for Giovanni Gentile: he's not a bad place to start an enquiry into the philosophical underpinnings of Italian Fascist thought. On the other hand, as Killdozer sang, Intellectuals Are The Shoeshine Boys Of The Ruling Elite.
Or as Robert O. Paxton puts it:
…the early fascist cadres were far too diverse in social origins and education to fit the common label of marginal outsiders. Alongside street brawlers with criminal records like Amerigo Dumini or Martin Bormann one could find a professor of philosophy like Giovanni Gentile or even, briefly, a musician like Arturo Toscanini. What united them was, after all, values rather than a social profile: scorn for tired bourgeois politics, opposition to the Left, fervent nationalism, a tolerance for violence when needed.

Someone has said that a political party is like a bus: people are always getting on and off. We will see as we go along how fascist clientele altered over time, from radicals to later careerists. Here, too, we cannot see the fascist phenomenon in full only by looking at its beginnings. ~ Robert O. Paxton, The Anatomy of Fascism, Penguin/Allen Lane, 2004, p.52.
10) "We, friends and comrades, deeply grieve over his untimely death. We remember Fedjay as the staunch friend and the fine person who could not pass by the stranger's misfortune or leave a comrade in a trouble. It was one of those people who stood at basis of Moscow Trojan Skinheads, community of apolitical antiracist skinheads from Moscow and Moscow Region. He made for development of Russian antiracist skinhead scene so much as nobody else. There is no doubt, that he was murdered for his believes."
Fruitsalad: "That made me laugh! Why is antifacism apolitical? Hahahaha while at the same time being antiracists? Classic."
Hurr hurr. That statement was issued by Fedor's friends and comrades; it has been translated from the Russian. The Moscow Trojan Skinheads choose to describe themselves as 'apolitical' because their members come from a range of political perspectives, or express no 'political' views. What they have in common is opposition to racism and fascism, and the fascist infiltration, disruption, defamation and subversion of skinhead culture. "NEITHER RED NOR RACIST" is their motto.
All you're really doing — apart from exhibiting a rather poor sense of humour — is displaying your ignorance of skinhead. Beyond this, and at heart, a refusal to acknowledge fascist and neo-Nazi movements as being of significance, even in cases, such as Russia, where they are active, growing, militant, and exterminating their enemies. On one level, this is to be expected, and not to be taken seriously, On another level, it begs the question: if the murder of a Russian SHARP is irrelevant or uninteresting to you, the simplest response would be to ignore such matters. Instead, you've chosen to embark upon a rather odd dissertation on the subject of 'anti-fascism' — and its political equivalence to the murderous antics of Russian boneheads. This would seem to suggest that there exists an undeclared interest on your part, which it would be more honest to simply disclose. In either case, Russian anti-fascists continue to call upon those outside of Russia for assistance.