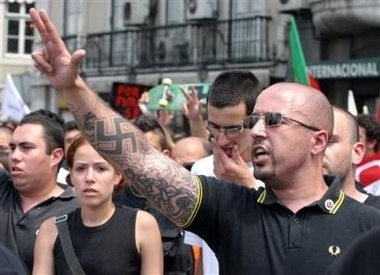 Mário Machado is líder máximo of the Portuguese franchise of the international neo-Nazi skinhead network known as the Hammerskins. In Australia, the franchise holders call themselves the Southern Cross Hammerskins, and are coming to Melbourne on September 25.
Mário Machado jailed
The Portugal News Online
August 21, 2010

Neo-Nazi leader Mário Machado has been jailed for seven years and two months this week, for the crimes of coercion, robbery, kidnapping and illegal possession of weapons.

The leader of the nationalist far right party, the 'Hammerskins', was finally sentenced to seven years and two months at Loures Courts on Tuesday, after sentencing was postponed twice beforehand. A further two suspects, Rui Dias and Fernando Massas, were jailed for nine years and seven years and ten months, respectively.

Nuno Cerejeiro (two years and two months) and João Dourado (ten months) received suspended sentences, whilst Bruno Ramos, Bruno Monteiro and Nuno Themudo were acquitted.

Mário Machado had previously been convicted to four years and ten months in 2008 for racial discrimination, intimidation, damage and assault with intent to cause serious bodily harm, amongst other related crimes.
Another nutzi to have been found guilty of breaking the law recently is Hal Turner. On August 13, 2010, the Internet Tough Guy was found guilty of making death threats against federal judges. Turner is currently in prison awaiting sentencing, and faces up to 10 years jail and a $250,000 fine.
Apart from being batshit, Turner's trick was to cultivate an audience of psychotic racists, and on occasion to feed infos concerning their madcap plans to the FBI. A shock confession at a court hearing in July 2009 of his tricksy, double-dealing ways — first uncovered by pissed-off hackers 18 months prior to this — shook off most of his supporters, but not all.
Thank Heavens no loudmouthed nutzi Internet Tough Guy from Australia does the exact same thing eh?