From the Departments of While You're Reading This Children Are Starving & Sh*t Just Got Real comes:
Good Game presenter claims ABC gender bias after axing
Asher Moses
[Fairfax]
October 30, 2009
An evil pixie at the ABC has decided to sabotage the ratings success of Good Game by ordering management to sack, without warning or explanation, one of its presenters — 'Junglist' (Jeremy Ray) — and to replace him with a virtual unknown: the poisoned chalice in this instance going to someone called 'Hex' (Stephanie Bendixsen).
This sounds like a job for Profile Talent Management!
Personally, I'd like to see both presenters (including 'Bajo' / Steven O'Donnell) axed and replaced with B-grade TV celebrities ABC management's children inform them are like, totally hot right now. But like, only after a private consultancy firm has been hired to do some hideously-overpriced market research on what the yoof are like, really watching on TV.
And stuff.
One extremely-talented performer that immediately springs to mind — to be precise: cartwheels, fire-breathes and juggles his way into my consciousness — is Dylan Lewis. He's crazy, funny, wacky and zany — and The Kids love him!
Mad skillz!
Anyway, there's been plenty of online back-and-forth in the meantime, both about the decision to sack Junglist, and the future of the show. The actual decision to sack Junglist appears to have taken place on or about October 23 (according to David Wildgoose @ Kotaku), but the shit has really only hit the fans this week, after the first episode featuring Bajo and Hex went to air (October 26).
Here's what 'Bajo' had to say after having completed his first show with 'Hex' (Stephanie Bendixsen):
Author Bajo (Presenter)
Date/Time 29 Oct 2009 8:10:07pm
Subject Re: Statement from the team…

I would very much like to do that again, one of the best days I've ever had on this show!

If you've ever worked in any sort of organization you'll know that as much as it sucks, work related issues cannot be discussed outside the work place, it's just as simple as that, and I wish we could tell you more – but we can't and that can't change and it's not going to. It feels unfair to us that we can't say our side of the story, but that's the position we're in and we understand and respect why these rules are in place in our workplace, or any.
[NB. When Bajo writes "I would very much like to do that again, one of the best days I've ever had on this show!", he is not referring to shooting the show with Hex, but to an 'Open Day' GG had previously arranged. See this comment for further clarification.]
Well actually, exactly who is responsible for 'Junglist' being removed from the show is slightly unclear. ABC management reckons they took the decision and it was because Junglist was a slack bastard behind the scenes — an under-performer. But the remaining cast and crew — possibly as a result of the laws which govern how the script unfolds on that long-running soap opera Workplace Relations — also appear to be completely supportive of Junglist's sacking. Here's the Good Game statement:
Dear GG'ers

You can't help but have noticed we've been quiet regarding Junglist's departure from the show which has really sucked because we're used to having such an honest and open relationship with you.

For all sorts of reasons we are unable to tell you things that have happened over many months inside Team Good Game which have impacted on the production. That's just real life folks. We know it leaves many questions unanswered but we have reached that point where we really can't say any more than that.

But we can tell you this much…

The decision to take Junglist off air was not forced upon us by ABC Management and it's one that is fully supported by all the GG team. We are gutted that it has come to this but in our opinion it absolutely had to happen.

It's strange for us to read that so many of you think this is because we have suffered a raging case of political correctness gone mad or a wish to dumb the show down. That's absolutely not right. We, as ever, will continue our quest to bring you the show for gamers by gamers but this has to be our last word on this – we have shows to make!

Finally, we genuinely wish Junglist all the best, and we hope he finds a medium for his awesome analysis and presenting skills that works for him.

Team Good Game Out
(Syd, Bajo, Moe, Tuk, Gog, Mafia, Jeremy Pencil, Palindrome)
And here's how Junglist responded:
Author Junglist (Reviewer)
Date/Time 29 Oct 2009 4:48:18pm
Subject Re: Statement from the team…

I can tell you that this is a lie. There was no vote taken, no consensus reached. In fact, the GG team was completely unaware of the change until the same day I found out. The same confidentiality clause that prevented me from saying anything publicly, prevented management from telling them anything.

I have spoken to members of the GG team who clearly DON'T support this, but can't say anything publicly. Of course they'll tow the party line. They have to.

Up until now the situation has just been poorly handled. But to now LIE to your own audience, in an effort to save face for replacing an experienced reviewer/presenter with an inexperienced one, is quite simply the lowest thing I've ever seen ABC management do.

I feel now as if I'm being professionally attacked, so here's a truth bomb. In the meeting where I was told I would be replaced, the reason given was they wanted a girl on the show. "Mass appeal" was a direct quote from that meeting. After a half-hour of explaining how they'll lose their hardcore following, they responded that yes, they knew this, but expected to make up the numbers with a new following. "A show can grow beyond its hardcore base", is another direct quote.

The decision was forced by ABC management, for a mass appeal direction, and will naturally be dumbed down for the loss of experience. Case in point: Monday night's show. Both Forza 3 and Kingdom Hearts clearly written by people with no idea about those franchises. Hell, no one on the team even thought to correct the presenters on how to pronounce "Forza" correctly? Expect a lot more of that…
And so on…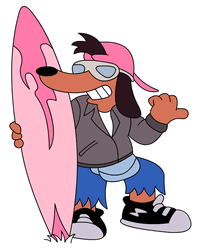 one
Author Junglist (Reviewer)
Date/Time 29 Oct 2009 5:16:31pm
Subject Re: Statement from the team…

"We have felt personally attacked by some of the posts by Jung, and others, with the inability to reply due to confidentiality."

Actually, I've been very supportive of Hex, and pointed out that all she ever did was accept a cool job. What possible truth bomb could YOU drop? I'm not trying to be a White Knight, I've made mistakes too. I've disagreed with the ABC on reviewing policies, which sometimes resulted in footage being handed in late. And it's a shame that the Christmas special was decided on around the same time I booked an overseas trip, and neither party were flexible enough to change plans.

But at the very, very least, I want to be honest with the community. Realise it or not, Good Game has a responsibility to show younger Australian viewers what the ABC is about. I think the appropriate term here is, "epic fail".
two
Author Syd (Series Producer)
Date/Time 29 Oct 2009 5:35:21pm
Subject Re: Statement from the team…

This could easily degenerate into a he said she said we said… none of us were in that meeting after all… BUT the GG team is here with me in the office right now…

Jung mate, I'm sorry to say it but you are wrong… no one on the team feels we have to tow the party line here – no one has been coerced into doing or saying anything they don't want to. Sure we didn't all find out till you did – but that does not mean we don't feel it's the right thing to do for the show. That's the truth we need to swallow here… as bitter a taste as it might leave in our mouths.

Regardless of what Jung might say GG will NOT be dumbed down and I state again, the decision was nothing to do with bringing in a girl… FFS – I'm a girl and I started this show – I don't care about the gender of the presenters – I just care about having the best ppl working on it.

Guys… I totally acknowledge Jung[']s contribution to GG – and yeah I can see how it feels like we've stabbed a mate – and what's the Aussie thing to do? Stand up for a mate in a fight right? But this show is more than just one person – is and always has been.

GG has been my life for the last nearly four years… why on earth would I want anything to hurt it?

Syd
three
Author Junglist (Reviewer)
Date/Time 29 Oct 2009 5:43:42pm
Subject Re: Statement from the team…

"GG has been my life for the last nearly four years… why on earth would I want anything to hurt it?"

I completely believe that you have the best of intentions, Syd. It's you that holds this show together. And I likewise believe you when you say it has nothing to do with bringing in a girl.

But it's not up to you, is it? This change comes from higher up.

As I said, I've spoken to team members who contradict what you say about "supporting the ABC's decision", so this is damage control, pure & simple.
four
Author Bajo (Presenter)
Date/Time 29 Oct 2009 7:42:17pm
Subject Re: Statement from the team…

Hi guys,

I can't stress enough to scrub 'mass appeal' from your minds. The words are ridiculous to me, and the team and no one has ever felt that it's even remotely where we are heading. If you find you can't scrub it than at least take a look at the show over the next few weeks and you'll see that we're not changing focus/direction at all. Yes there is some change obviously, but not to the content and definitely not to our attitude to how we present gaming information. No one is understating the loss we'll feel without Junglist[']s excellent reviews and input to the show, but we will find our groove again, with your help and the help of our very hardworking team who have come from so many different places from magazines to other shows to freelance game journos to just plain gamers that we thought were awesome and needed to work on the show. No one has any interest in dumbing anything down, the thought of it makes me vomit on Gog's keyboard. Amongst other people keyboards and chairs.

From outside looking in it's easy to jump to conclusions and assume lots of things, so try to trust that we really do care about you, we troll every day, and we feel your words. We are going to deal with this change in the best possible way we can with the tools we have, with the best possible team we can find. We are still filling our team up behind and in front of the scenes, and it's only growing as the year turns into the next. Like Syd said, we have two shows next year, and GGSP is focused on tween, which allows us to put MORE adult content in the regular GG, something we have always wanted to do and have always fought to do.

Despite all this hate and flame, just take a deep breath. Now, exhale, and think about games for a moment, which is why we are all here. I'm not trying to make light of an obviously hard and awful conversation we're having, but games are awesome.

Their awesome juice will seep into our souls, and we'll be awesome again, and show you this juice as it transforms into words. The juice will then flow out of our pores, into our actual drink of juice (possibly pineapple) and then that juice will be drunk again, only doubling the effect of awesome juice which is all from games in the first place.

I very much wish I could be next to you all to talk about this in person. It's hard to express my frustration about the misconceptions I keep seeing here. I would like to give you all a real hug… please accept this internet hug 'O' for now.

Those of you whom are doubtful, I do hope you choose to stay, and at least give us a chance. The show is really important to me, and us, and we just want it to be epic as it once was, with all the tools we have.
five
Author Junglist (Reviewer)
Date/Time 29 Oct 2009 8:43:18pm
Subject Re: Statement from the team…

"I can't stress enough to scrub 'mass appeal' from your minds."

That's because "mass appeal" is the truth. You're asking for a lot of trust in that statement when trust is clearly an issue right now. I actually believe that you believe what you're saying, but you weren't the one who talked to upper management for 30 minutes about their new mass appeal plan.

"Yes there is some change obviously, but not to the content."

Explain then why I'm only contributing 1 token review a week? And quite possibly those reviews won't even make it into the show? A proven reviewer over 3 years has been replaced with a less experienced one. The content HAS changed, already.

As ever Baj it seems like you couldn't wait to just get on with things… fair enough if you don't care about this whole thing, but asking everyone to just forget about it by promising fruit hats and horse heads is insulting peoples' intelligence.

For my part, I've been honest about my own weaknesses in my role. There is no more "we can't say anything". I've said it. So have at me bro, if that's what you feel like.
Bonus TISM!