It's not fair. I've noted that Michael Costa, Keith Windschuttle and Paul Owens are ex-Trots, but what about all those ex-anarchists? Well, when I write 'ex-anarchist', I really mean those-who-may-once-have-called-themselves-anarchists but who now… well, no longer do. I think.
Here's a sample:
Wendy Bacon (1946?–) : Thirty years go, Wendy allegedly wrote 'The Question is not 'Organisation or no organisation?' but 'what sort of organisation?'. And the same goes for structure'. A veteran of The (Sydney) Push, after having battled censors, bosses, developers and more, the structure Wendy currently contends with is UTS.
Van Badham (1978–) : Another student radical and a member of a fraction known as the Non-Aligned Left (NAL), in 1998 Van was also President of the New South Wales branch of the National Union of Students (NUS). Now Van subverts authority by writing plays: "distinctive voice, uncompromising political themes and razor-sharp wit… have become trademarks of her work".
Michael Duffy (?) : a hack journo, Michael once worked at either Black Rose or Jura Books in Sydney. Well, that's his story anyway. Nowadays he's content being a right-wing Phillip Adams for the Pink Mafia at the ABC and an opinionist for the SMH.
John Flaus (1934–) : Another Push veteran, John is "The barefoot anarchist from working class Sydney who once went to the drive-in without a car." A w e s o m e. After a long stint as a film buff on 3RRR (and a lot more besides), John's gravelly voice can now be heard flogging stuff on TV ("Ah McCain, you've done it again!"). "I do quite a few voice-overs but I rarely get the opportunity to say something I entirely believe in," he told the Herald. "I spoke from the heart. I didn't need to enter into a sort of emotional state other than my own, which is what an actor must do when he or she prepares for a role." Flaus, 72, left school in 1950. He says he has seen the battles the trade union movement has waged over the years to secure recognition, workplace safety and "the thing our current Prime Minister talks about – he likes to use the expression 'a fair go'"."
Germaine Greer (1939–) : You may remember Germaine from such seminal texts as The Female Eunuch (1971), The Obstacle Race (1979), Sex and Destiny (1984), Shakespeare and The Madwoman's Underclothes (1986), Daddy, We Hardly Knew You (1989), The Change (1991), Slip-Shod Sibyls (1995), the whole woman (1999) and last — but by no means least — The Beautiful Boy (2003). Cranky and opinionated, Germaine was once associated with The Push; a far cry from "the flabby intellectual atmosphere of the Melbourne Drift", apparently. Recently, Germaine sunk the boot into Steve Irwin, to popular, ah, acclaim.
Drew Hutton (1947–) : In the 1960s and '70s, Drew was a Brisbane libertarian socialist ('anarchist'). In 1984, he was one of the founders of the Brisbane Green Party, the second party of its kind in Australia. Worse things happen at sea.
Paddy McGuinness (1938–2008) : *groan* Paddy once hung around The Push. Then in 1963 he pissed off to Europe and got a job working for the KGB-front Moscow Narodny Bank, followed by a stint with the OECD. He returned to Australia and spent decades writing dribble.
Frank Moorhouse (1938–) : Author, but not a grave security risk: "By his own admission, writer Frank Moorhouse has benefited from almost every kind of government patronage – grants, awards, "soft diplomacy" jaunts overseas, even an Order of Australia. So he might have been peeved to find the government meanwhile had ASIO watching him, checking who came to his barbecues, what campaigns he mounted, which motions he moved at fringe meetings – exploring whether he was "an enemy of the state". Not so. What left him "gravely disappointed" as he leafed through the thick file during his research at the National Archives of Australia was that his youthful anarchist activities ultimately weren't taken seriously enough to make him a "grave security risk". "I was furious," he huffs. "They gravely underestimated the Sydney anarchists movement."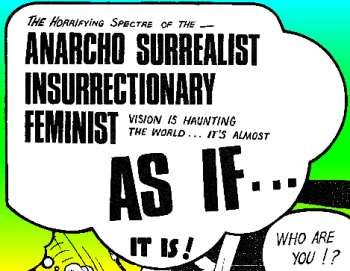 Margot Nash (?) : Winner of the 1973 Award for Best Title for a Political Organisation, Margot was once a member of the Anarcho-Surrealist-Insurrectionary-Feminist (AS IF) collective. Now she's a screenwriter and a director with a background as a cinematographer, a film editor and an actor. And an academic.
Richard Neville (1941–) : Another product of The Push, Richard is known for his having started (along with Richard Walsh and Martin Sharpe) Oz in Sydney in 1963. It played a very important role in disseminating 'counter-cultural' ideas. He's also known for having appeared on The Mike Walsh Show (1973–1985), and being a 'futurist'.
Paul Norton (?) : Used to be a young anarchist; turned into a not-quite-so-young Green… academic.
Jamie Parker (?) : A student activist and student union official (Chairperson) at Macquarie University and NUS (NSW State President, 1995; National Environment Officer, 1996), Jamie has since gone on to forge a career with the Greens, and sits on the Leichhardt Council. (He's also been known to flog Horny Goat Weed.)
Christos Tsiolkas (1965–) : Christos barracks for Richmond. Despite this handicap, he's somehow managed to become a writer, among a number of other titles co-authoring Jump Cuts (1996) with Sasha Soldatow (1947–2006). "Soldatow had been drawn to Sydney specifically by the anarchist libertarian tradition, which didn't exist in Melbourne…".
Marcus Westbury (1974–) : Culture vulture, TV personality and festival organiser extraordinaire, as a student Marcus was a member of the NAL, whose glorious victory in NUS elections in 1996 was trumpeted in the Workers' Solidarity Movement paper (No.47, Spring 1996), much to the bemusement of local anarchists.
A slightly hostile account of 'The Push' is available in 'The Push and Critical Drinkers' (Ch. 5 of Corrupting the Youth: A History of Australian Philosophy, James Franklin, Macleay Press, 2003). In fact, I wondered at the tone until I remembered that Macleay Press is the vanity publisher for Trot-turned-neo-con Keith Windschuttle. Funny how things come around like that. A more sympathetic account is available via Anne Coombs' Sex and Anarchy, Viking, 1996 (see John Tranter's review). See also the Orstalian Gub'mint's attempts at keepin' it real for the kidz.

Other notable quotables include John Kinsella, Brian Laver, Brian Martin, Peter McGregor (1947–2008), Ted Murphy, Saul Newman, Paul Nursey-Bray, Val Plumwood (1939–2008) and Ariel Salleh.