Update : See also Moscow Antifa Honor the Memory of Stas and Nastya, January 21, 2009; Stanislav Markelov: On the Frontlines, Stanislav Markelov Has Been Murdered, January 20, 2009 [chtodelat news]
Top rights lawyer shot dead in Moscow
Michael Schwirtz, Moscow
The Age (New York Times)
January 21, 2009
A PROMINENT Russian lawyer who spent almost a decade pursuing contentious human rights and social justice cases has been killed in a daylight assassination in central Moscow.
Stanislav Markelov was shot dead on Monday after holding a news conference at which he said he would continue to fight against the early release of Yuri Budanov, a former Russian tank commander jailed for murdering a young Chechen woman.
[Bella Ciao reports Markelov "was about to give a press conference against neo-fascism in Russia."]
Anastasia Baburova, a 25-year-old journalist who was with Mr Markelov, was also killed. She worked for the Novaya Gazeta newspaper, which is highly critical of the Government.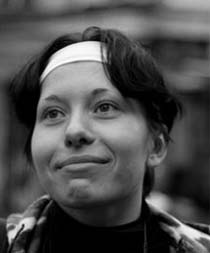 Officials said they believed Mr Markelov, 34, was the primary target, having brought cases against the Russian military, Chechen warlords and murderous neo-fascists.
His murder had the characteristics of a contract killing, a not uncommon phenomenon in Russia.
Mr Markelov was the director of the Rule of Law Institute, a civil liberties group. He gained prominence representing the family of Elza Kungayeva, an 18-year-old Chechen whom Budanov admitted strangling in his quarters in March 2000, just as the second post-Soviet war in Chechnya was beginning to rage.
Budanov was sentenced to 10 years in prison but was given early parole for good behaviour.
At the news conference Mr Markelov had told reporters he might file an appeal to the European Court of Human Rights against the early release of Budanov, a decorated colonel of the Russian army before he was stripped of his rank.
The decision to free Budanov sparked protests and outraged human rights groups and Chechen officials.
It reignited tensions years after a decade of intermittent war in Chechnya, the southern Russian republic, was replaced by tenuous stability.
But Budanov was also revered by nationalists for helping to wage a bloody but necessary war against separatist rebels in Chechnya. Some now see Mr Markelov's murder as revenge for his efforts against a Russian hero.
High-profile lawyer murdered in central Moscow
Russia Today
January 20, 2009
The lawyer of the Kungayev family, the relatives of a Chechen woman, who was murdered by a Russian army colonel, Yury Budanov, has been killed. Stanislav Markelov was shot dead in the centre of Moscow in broad daylight on Monday.
According to witnesses, a man wearing a ski-mask approached Markelov and Anastasia Baburova, a 24-year-old free-lance journalist for 'Novaya Gazeta' newspaper, in the street and took out a gun.
The lawyer was shot dead on the spot, while the woman was fatally injured with a gunshot wound to the head, and died shortly after she was taken to the hospital.
"Today at around 14:20 Moscow time, a man's body with a wound to the head was found in the centre of Moscow. The ID found on the victim identified him as the lawyer Stanislav Markelov. The second victim, Anastasia Baburova, also with wounds to the head has been critically injured. The ID found on her identifies her as a student of a Journalist's faculty," Vladimir Markin from the General Prosecutor's Office Investigative Committee, said…
See also : Russian Rights Attorney, Reporter Murdered, The Other Russia, January 19, 2009. The Washington Post has the best headline so far: Two More Critics of Vladimir Putin Take Bullets in the Head: "The larger story here is of serial murders of Mr. Putin's opponents, at home and abroad. Ms. Baburova, 25, is at least the 15th journalist to be slain since Mr. Putin took power. No one has been held accountable in any of the cases — including that of Anna Politkovskaya, a former client of Mr. Markelov who also was murdered execution-style in broad daylight, on Mr. Putin's birthday in 2006. In London, dissident former KGB agent Alexander Litvinenko was poisoned; so was Ukrainian President Viktor Yushchenko, who survived. Karina Moskalenko, another opposition lawyer who has represented Ms. Politkovkaya's family, fell ill from mercury poisoning in Strasbourg, France, in October, just before a hearing in the case. Last week in Vienna, a Chechen dissident who had received political asylum was murdered on the street — shot twice in the head."
Dead lawyer Stanislav Markelov, who represented dead Chechen Elza Kungayeva, also once represented dead journalist Anna Politkovskaya. In November 2008, he represented anti-fascist Aleksey Olesinov; curiously, Russian police apparently attempted to link Aleksey to the murder investigation of dead anti-fascist Fedor [Fyodor] Filatov.

On a brighter note, Russian murderer Yury Budanov is alive and well, as is Russian dictator Alexander Putin.

It's a funny old world, but as Dion stated on the Bombshell forum, Stanislav, Elza and Anna are were liars, hypocrites and no better than the trash that they fight fought against.