Judging by his Twitter account, the President of One Nation (ON) in Victoria, John Groves, is a rather unpleasant and, perhaps, even mildly psychotic fellow: homophobic, racist, and paranoid.
Who woulda thunk it?
Recently, Melissa Fyfe wrote on how Victoria is "the left-leaning state"; as evidence she cited, inter alia, "the consistently low vote for the right-wing party One Nation (in the 2007 election, 0.01 per cent of Victorians, or 433 people, cast a first preference for the party, compared with 8426 in NSW)".
Casting our unsettled minds and fevered imaginations back further, it's possible to recall that, in the 1998 Federal election in Victoria, ON received 105,798 votes in the House of Representatives, or 3.7% of the total. In the Senate, Robyn Spencer (and her running mate Ben Buckley) got 117,048 votes (4.1%). In the 1999 Victorian State election, however, the party received just 8,181 votes, or 0.29%. (See : How One Nation Victoria Fell Apart, Anonymous, Crikey, February 13, 2000: "This is an [attempt] to explain how head office intervention has reduced One Nation Victoria from about 30 branches to about 3 branches all in this year.")
In 2001, 'Pauline Hanson's One Nation' fared considerably better at the Federal election, the party scoring 71,605 votes in the Senate, or 2.45% of the total, and 37,811 votes (1.2%) in the Lower House. In 2004, however, the party's share of the vote dropped considerably, to 21,532 votes (0.72%) in the Senate, and a mere 4,119 votes (0.1%) in the House of Reps.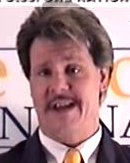 In 2007, Nick Steel (above) and Daniel Shore stood for ON in the Senate, while current President John (Llewellyn) Groves stood for 'One Nation WA'. Between them, Steel and Shore secured 13,354 votes (0.42%), while John Llewellyn Groves got just 48 (the figure of 433 votes Fyfe cites is for the Lower House, where some bloke called Neil Henry Smith stuck his hand up for ON in Bruce).
In the 2010 Australian federal election, One Nation is standing two candidates in Victoria: Rosalyn Townsend and Dale Townsend.
One Nation's last crack at winning a seat in Victoria came in December last year, when Steve Raskovy stuck his hand up for God, Queen and Country. Sadly, just 199 voters were willing to support Steve, and in June he announced his shock resignation from the party, taking the opportunity to begin his bid to join scientician Andrew Bolt at The Ponds Institute for Advanced Manipulation and Interpretation of Climatological Data in the Context of Climatic Variability and Change:
Mr Raskovy resigned from One Nation last week but said he would still run in this year's federal election if he could find "a good party" which stood for limited immigration, better aged and disability care and strong action on climate change.

"I believe global warming is caused by a lack of rainfall," he said.

"In my opinion, aeroplanes are the biggest culprits because they cut up the rain clouds. That's why we're only getting drizzles and not proper rainfall because the aeroplanes are cutting up the rain clouds."
Leaving aside the bizarro followers of Lyndon LaRouche, aka the Citizens Electoral Council, the other far right candidate at this year's election is Alex Norwick of the Australia First Party. He'll be coming last in the competition for a seat in Deakin.
And remember kids…
SHOULD THERE BE ANY MATTERS YOU WISH TO DISCUSS PLEASE PHONE JOHN GROVES, STATE PRESIDENT ON 0439 386 942.