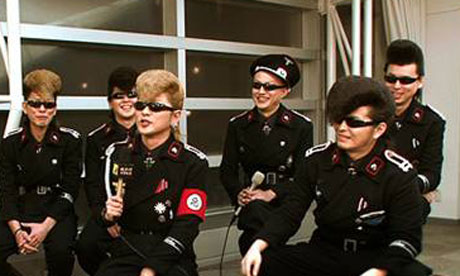 David Lynch, one of the founders of the US neo-Nazi group American Front, was shot to death at his home yesterday, apparently. Neighbors said they'd never seen any sign of Lynch's extreme views, in spite of a license plate border on a vehicle in the driveway that said, "My boss is an Austrian painter".
The SPLC has just published a new # of its Intelligence Report (No.141, Spring 2011). Among other things, the Report details the fact that Bill White, my favourite Hollywood Nazi, has been sent to jail–again.
Ideologies of War, Genocide and Terror is a neat-o website w some v interestink readings:
Established in 2004 by Orion Anderson and Richard Koenigsberg, the IDEOLOGIES OF WAR, GENOCIDE AND TERROR website presents research and writing on the sources and meanings of collective or societal forms of violence. This website aspires to publish the best that has been thought and said on collective forms of violence, establishing a resource for scholars around the world to convey findings and share insights.
The Melbourne Free University is mid-way through a series of lectures on 'Racism in the 21st Century'. Next Thursday, Shakira Hussein (University of Melbourne) will be discussing 'Islam in Australia'.
In NSW, Nicholas (Hunter) Folkes of the Australian Protectionist Party is taking up the anti-communist cudgel in the seat of Balmain in the upcoming state election. (Folkes also opposes Islamic rule, global warmingists, Muslims, Fabians within the Labor Party, someone whose religion is Islam, anarchist Greens, Islamists, Communist teachers, Moslems, rampant homosexuality, followers of Muhammad and the Education Department.) Folkes will be losing to a range of other candidates–the full list is yet to be determined–but the real struggle for the seat will be between one-time student anarchist turned Green Jamie Parker and Labor's Verity Firth. (Centrebet has PARKER, Jamie @ 1.20 and FIRTH, Verity @ 4.50.)
In the 2010 Federal election, Folkes ran with former 'national anarchist' Darrin Hodges for a seat in the Senate. Sadly, the pair managed to gain just 1,864 votes (0.04%), 99.96% of ungrateful New South Welshmen opting to seek protection from The Boogeyman elsewhere.
Finally…
"You shoot well with your left hand", Hoffner tells an anarchist who has managed to kill the two Nazis who'd been torturing him. "Close range", the anarchist answers. "Not that difficult".